AppleInsider Live Blog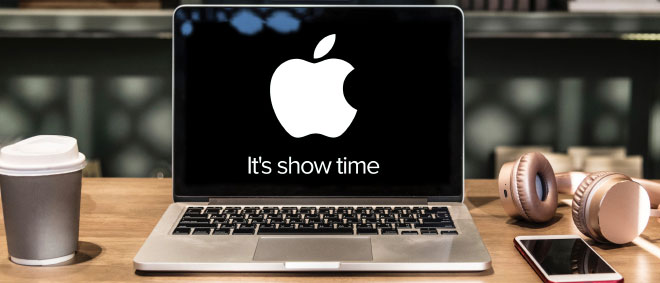 Live from Apple's 2018 Mac and iPad event in Brooklyn
Join us as we join Apple in Brooklyn, NY on Tuesday morning for the introduction of FaceID-enabled iPads, new Mac desktop systems, and possibly a new edition to the the company's ultra-lightweight MacBook family that's expected to sport at least a 13" display in replacing the legacy 13" MacBook Air
Mainstage, production for a live interactive art performance, or video encoding using Compressor. Or on the set of Paramount's Rocket Man. String them together for a build farm, or rack thousands, like Rack Stadium has. The Mac mini runs 24-7 in data centers around the world. 8GB RAM, 3.6 Ghz, and 128GB SSD as base configuration, starting at $799. "By far the best value we've ever offered in a Mac mini."

Today, we're announcing 60 newly designed sessions. Video, music, and design have all been expanded, and we're adding walks and labs to most sessions. Fun Family portraits, Drawing Treehouse (co-created with architects) and video labs, like Color & Mood with Final Cut Pro, or a Music Lab called Advanced Beat Making.

"No one else has anything like Today at Apple. In addition to the 3000 Apple Creatives, we have 7000 employees dedicated to helping you get the best out of your Apple devices, and they are the best team on the planet." (applause) Tim responds jokingly, "Wow. I am moving to New York!"

This display gave them an opportunity to take a fresh look at the iPad Pro sizes. The new 11" iPad Pro is the same physical size as the 10.5" with the display pushed to the edge. The 12.9" is now 12.9" in a much smaller physical size. "Dramatically smaller" almost the same size as an 8.5x11 piece of paper. These are 5.9mm thin, thinner than the old ones - 15% thinner for the 12.9 inch. 25% less volume than its predecessor.

Built on the same 7nm process, and has 10 Billion transistors. 8 core CPU, 4 for performance and 4 for efficiency. Single core performance is up 35%. Multi-core workloads are 90% faster. This is a huge step forward. These iPad Pros are faster than 92% of all portable PCs sold in the last year. Graphics are a 7 core GPU and 1000x faster.
Powered by ScribbleLive Content Marketing Software Platform