AppleInsider Live Blog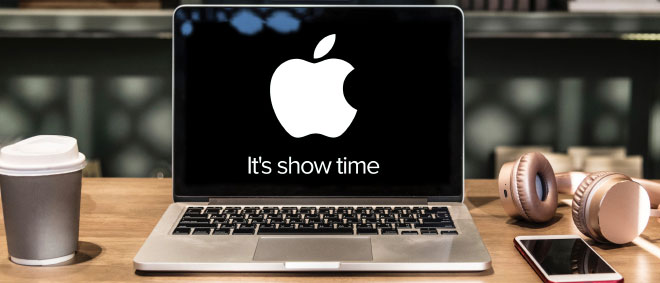 Follow Apple's new iPhone XS and Apple Watch 4 announcements in real time
Unable to watch the live video stream from Apple's Gather Round event this morning? We're transcribing the event in real time.
She uses "Hey Siri" with airpods to get directions, running through the pond, through groundskeepers, through the cafeteria, Kevin Lynch uses his Apple Watch to transport Star-Trek-style to the Steve Jobs theater. She slides the breifcase into the elevator, runs down the stairs, jumps the railing, grabs the case out of the elevator, runs to the backstage entrance, and her badge doesn't work. Lynch transports in, swipes his badge. She's out of breath. Tim Cook opens the case, smiles, "Ah. The clicker." The clicker?!

It's amazing with how our mission started with personalizing the desktop, so it's only fitting we're going to tell you about two of our most personal products, the ones that are with you everywhere you go, and how we're going to take them even further. Apple Watch!

Everything about Apple Watch Series 4 has been redeveloped and reengineered, and it's just beautiful. It all starts with the stunning new display, pushing the screen to the edges and curving the corners. They're 30% larger screens. We've done this with minimal changes to the case size. It's thinner, and every part of the UI has been redesigned. You'll see more in maps, photos, calendar, and we've created new complications that show even more information and detail. We've designed a brand new watch face with up to 8 complications, and you can customize it with the things you really care about.

The digital crown has been reengineered with haptic feedback. The speaker has been completely redesigned, making it 50% louder. The microphones have been moved to the opposite side to reduce echo for phone calls. The back has been redesigned with black ceramic, and it's better than ever.

Jony Ive narrates "it's a device so powerful, so personal, it can change the way you live, each day."

 

Silver, gold, space gray in aluminum. Stainless in polished and space black. Gold Stainless is a brand new finish paired with the milanese loop. All band colors and band styles fit any generation watch. All the bands you already own will work just fine on Series 4. For customers who love Nike+, it's been optimized for Series 4 with fullscreen watch faces, and they've added reflective yarn for the sport loop for night time visibility.
Powered by ScribbleLive Content Marketing Software Platform